Tiber, the tracker dog who went missing from Coral
In May 1968, the 1st Australian Task Force in Vietnam fought off a series of fierce attacks near Bien Hoa city that were part of a "mini-Tet" offensive mounted by Viet Cong and North Vietnamese forces. To commemorate the 50th anniversary of the actions, Australian War Memorial Head of Military History Ashley Ekins has written a gripping account of the first attack on Fire Support Base (FSB) Coral for the latest issue of Wartime. 
When the second assault on FSB Coral came just two nights later, the noise of bursting mortars, bright flashes from gun fire, and intense activity caused one Australian to flee: a tracker dog named Tiber broke loose from his handler and took off across the battlefield, into the dark.
Tiber was one of 11 tracker dogs who served with Australian forces in Vietnam between April 1967 and September 1971. The black Labradors were trained from the age of about 10 months. Upon their arrival in Vietnam two dogs were assigned to each of the Australian battalions.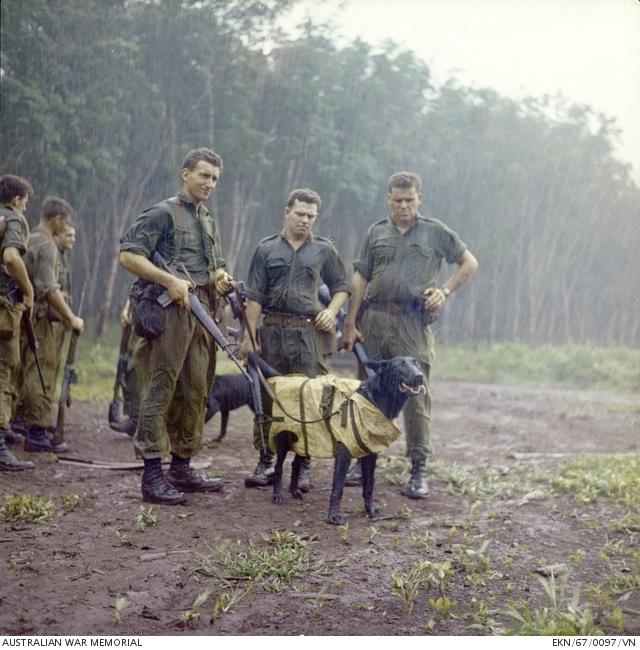 The dogs, along with their handlers, two visual trackers, a machine-gunner, and a signaller, made up a tracker team. Tracker teams were called out to follow enemy trails or locate suspected enemy hideouts after contact with Australian soldiers. After being airlifted by helicopter into the area of operation, the dogs would be put on to the scent of the retreating enemy.
By and large the dogs performed well, and at least three were each credited with five or more enemy "kills". Cassius, one of the first two trial tracker dogs to arrive in Vietnam, was the only dog to die on duty. Just six weeks into his deployment, Cassius died from heat exhaustion while on a training run in the sand dunes around Vung Tau, on 12 May 1967.
Tiber arrived in Vietnam later that month to replace Cassius. He was almost one year into his tour of duty with 1RAR when he went missing during the attack at Fire Support Base Coral on 15–16 May 1968.
Australian war correspondent Pat Burgess told Tiber's story in the Daily Telegraph in October 1971 under the headline, "The day Tiber turned chicken in the face of the enemy". Burgess wrote that during the first attack on Coral, Tiber's handler Private Bryan Meehan had laid on top of the dog in a "narrow fighting pit" for hours:
Together they felt the shock waves from the mortars. They saw the yellow flame from the tree-bursts. They heard and felt the passing of a fragment or a bullet.
When the enemy returned two nights later, Meehan chained up Tiber beside him — "but this time, he couldn't hold him", Burgess wrote:
Tiber broke the chain and took off through the area where I Battalion soldiers were fighting hand-to-hand, through the mortars and rockets, to the perimeter, where our own shells were falling.
The dog had apparently been frightened by the explosion of a rocket-propelled grenade, just metres away from him. Lex McAulay adds to the account of Tiber's disappearance during the action in his book, The Battle of Coral:
Frightened by the horrendous night, Tiber, one of the dogs from Les Tranter's tracker teams, broke loose from its handler and fled across the battlefield, heading for Mick Bindley's comms centre. Tranter radioed an urgent message, Bindley looked out, saw the dog, leaped out, chased it and made "one of my less successful rugby tackles at it and missed, then asked myself the very reasonable question: what the hell was I doing chasing a dog around at this time of night? And very smartly returned to the pit". 
Burgess reported that Tiber "slunk back into the Australian lines" around 10 o'clock the next morning.
Bryan said: "You look real ashamed, don't you? So you reckon you're going to get a hiding?" He lay down on Bryan's boots, with his head turned away. Bryan Meehan, aged 21, just gave him a pat and a drink. "I don't blame you for going over the hill, old boy," he said. "I didn't like it much either. If I had four legs and could move as fast, I might have taken off, too."
In August 1969, a report by Australian Associated Press war correspondent Robin Strathdee was published in Australian newspapers stating that Tiber was "shell-shocked and spends days wandering aimlessly".  The story led to a ministerial enquiry into the canine's condition, and whether he was "currently employed". The response came back:
Three dogs held by 5RAR. All are fit. Two are working. Dog Tiber is not working. Tiber took part in operations with 1RAR at FSB Coral last year and since then has not been an efficient tracker.

Strathdee's opinion is a personal one. Tiber is happy, friendly and shows no outward sign of neuroses. He is no more aimless than any domestic pet. Latest veterinary report is that Tiber is well adjusted but possibly lazy.
Tiber was retired in June 1970 and transferred to a new home with staff at the Australian Embassy in Saigon. His canine comrades were similarly re-housed with civilian owners in Saigon following their service.
To read Ashley Ekins' account of the first attack on Fire Support Base Coral, purchase Wartime issue 82 here.