Here in the Education section we love to know what you're working on in the classroom, or how you might have used some of our resources. Send in your pictures, poems, photos, or anything else you'd like to share to education@awm.gov.au. A selection of recent submissions is featured below.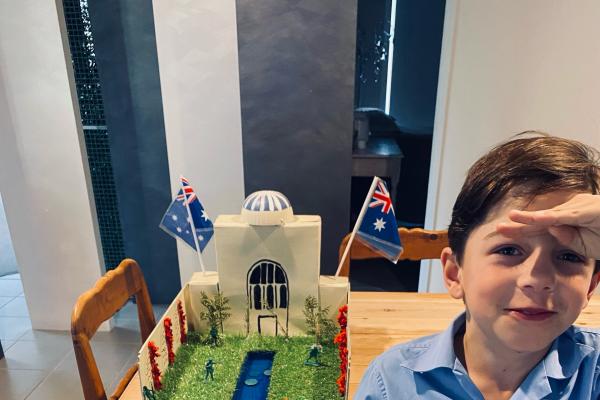 Commemorative Area Diorama
Isaac, Year 3, St Mary's Goondiwindi
Last term Isaac's class had to design and build an Australian landmark of their choice. Isaac chose the Memorial's Commemorative Area.
See Isaac's letter and diorama
The land the soldiers now call home
Hannah, Year 6, Newcastle East Public School
It has been lovely hearing from teachers and parents about how students are exploring military history during lockdown. We received this poem from Newcastle East Public School, written by Year 6 student, Hannah. Students were asked to look at a painting or image and write a short poem about what that image evoked for them. She hopes her poem will allow readers to form their own interpretations.
Read more
The role of Indian soldiers on Gallipoli
As part of the International Baccalaureate curriculum, year 12 student Maitrayei Rai wrote an extended essay highlighting the role of Indian soldiers on Gallipoli.
Read the essay here.
Mt Carmel School, Paige, Year 6
Open Information
Students at Mt Carmel School in Yass were given the task to write to a soldier. The following letter and poem was written by year 6 student Paige.
Dear Anzac soldiers and army,
The first thing I would like to say is I am so incredibly thankful for your services to our country. If it weren't for your services Australia would be living our worst lives. I have the highest respect possible for the whole army and can't wait to hear the new plans you have to keep Australia and New Zealand safe.
The training you go through is incredibly hard and I don't know how you do it. From what I've seen you have to do swimming, running, obstacle courses, first aid, and shooting. For me, that's a lot to do in just a little amount of time and it would be hard to process all the training into your memory, so thank you for giving up a lot of your time to give to Australia's people. I don't know how you do any of it. It amazes me to learn about the training you go through to get into the army. I have even more respect for all of you when you go through this training to save our country although you know you could lose your lives.
The whole army has taught me to stay strong and to put others before me. You are putting your life at risk for the whole of Australia to save our lives and that is the highest level of respect and generosity. Also when you don't mind or even whine about the food or how much training you do amazes me. I could never do what you do and would love to learn more about the experience.
As a project, I would love to meet up with your team and study about the planes, the training and maybe a small interview on what it is like to be a soldier in the army, what it is like to be on the battlefield and what it is like without your family for such long periods.
Once again thank you so much for your service to Australia and hopefully, you get this note.
Regards
Paige
Poem
The days are long and hard,
As poppy's turn red,
As the battlefields grow old,
And as your families grow tired.
But you are strong,
And you are brave,
And when you step onto that battlefield,
We only pray.
We pray that you make it back alive,
And that you will remember us,
As we will always remember you.
For your fellow soldiers,
Say to yourself,
They are happy in heaven,
And have died to save us.
Remember,
We have respect for you,
And always will,
For that, you have served our country,
And risked it all,
For me.
So keep fighting,
As we will keep fighting to remember you,
And as we remember you,
You stay strong,
Stay brave,
And stay tough,
As we will never forget you.
Lest we forget
Mount Barker Community College Hayden Pitt, Year 10
Open Information
This poem was written by Hayden Pitt, a year 10 student from Mount Barker Community College in Western Australia. It formed part of his HASS course, and entry to the Mt Barker RSL High School Anzac Day competition, in which students investigated Post Traumatic Stress Disorder (PTSD) in service personnel from the First and Second World Wars. The students presented their findings as a visual museum display.
Even the brave can be broken.
Soldiers. Stress. Courage. Death.
Men who were tough. Who once were there.
Came back broken. Fingers running through their hair.
They try and try but forget they not.
The trauma, the stress, the pain, the lot.
Suffer they do, through day and through night.
Though it be the loss, the death, the fright.
Flash backs come, unwanted they are.
From the bark of a dog or the horn of a car.
Many are hurt and scared within.
So we must understand the places they've been.
Wattle Grove Public School Wattle Grove, NSW
Open Information
Students from Wattle Grove Public School, created this film to show our solidarity in honouring our Defence Force Personnel for all that they have sacrificed so that we have the freedom that we have today.
Cathedral Catholic Primary School Bathurst, NSW
Open Information
Students and staff from Cathedral Catholic Primary School in Bathurst, created this film to show how they observed Anzac Day in 2020. Organised by the Religious Education Coordinator, and led by the school captains, the film demonstrates the school community's commitment to the "Anzac at home" experience.
Sy, Ella, Tao, Kelby and Tintoela, Anzac Day
Open Information
While Sy, Ella, Tao, Kelby, and Tintoela the puppy could not attend a Dawn Service or parade like they usually do, they participated in their own service at home. The children dressed in their school uniforms, and donned their parents medals and service hats. The Royal Australian Navy, Australian Army, and Australian Federal Police were represented. They spent the day thinking of the Anzacs, and other people who have served our nation.
Fraser, Aged 8
Open Information
AN ANZAC POEM
A war is raging in our backyard
To stop it we will have to work ourselves hard
When I go to the battle, I expect glory
But when I get there it is just pointless and gory.

I wonder to this day what was the point of the war?
It caused horrible suffering but then, that opened a door
This door brought out the best in people, being true and mighty brave
And that had an effect, like a ripple, like a wave.

People felt united, especially when
You walked up to their graves and said "Never again."
Everyone in the war deserves a reward,
So we can give them our love and let us move forward

War is something we will always regret,
The least we can do is say "Lest We Forget".
St. Luke's Catholic Parish School Capalaba, Queensland Year 3
Open Information
The children in these difficult covid-19 times have brainstormed words to express how the soldiers might have felt while being transported onto the shores of Gallipoli. 
The class carefully chose their words to match each soldier in the picture book. We noted there were 19 men in the boat and we discussed a variety of emotions and feelings.
Pimlico State High School, Carly Johnson
Open Information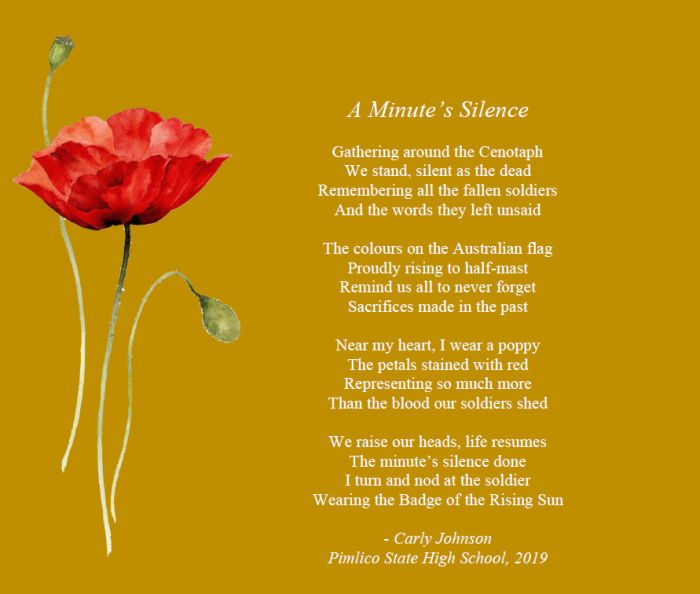 Genazzano College Melbourne, Bridget
Open Information
Aged 12
After visiting the Australian War Memorial with her year six class,  Bridget composed this poem:
Remembrance Day
'You ever realised what the ANZACS were willing to do?
They gave their lives for me and you.
You ever wonder it would be to see,
They died for you and me.
They had to live in blood and gore
They gave their lives to go to war.
You ever realise what they did
They gave their lives for us to live.
You ever feel bad when you're alone
How 'bout being a million miles
away from home?
Having to fight faithfully, hour after hour
inside their hearts were trembling outisde their muscle power.
They gave their lives for you and me,
They sacrificed themselves don't you see?"
Central Coast Steiner School, New South Wales
Open Information
The Australia in the First World War Memorial Box has been used by Year 9 students at Central Coast Steiner School as part of an empathy task.  Students chose an item from the box to use as a stimulus in order to produce a poem, narrative or visual representation.  Their teacher commented that using the items from the Memorial Box was powerful for the students and she was delighted by the quality of the stories and poems that the students produced.  Here are two examples, Humanity by Lachlan and Death by Emma.  Congratulations students!   Here are the links:
Schools frequently borrow Memorial Boxes from the Australian War Memorial. See more information about our education outreach program. 
Lachlan, New South Wales
Open Information
Aged 9
In his speech Lachlan explores Sir John Monash's contribution during the First World War, in particular his role in the Battle of Hamel. Lachlan also shares insights from his great great grandfather's war diary during his time in Gallipoli and France.
William, South Australia
Open Information
Year 9
William recently submitted an entry in to the 2018 Premier's Anzac Spirit School Prize competition. He researched an Australian serviceman who played a significant role on Armistice Day. William used various sources including photographs and enlistment documents as part of his research. Thank you for sharing the story of Private 'Tiny' Toop with us.
Truganina College, Victoria
Open Information
Students at Truganina College learned about the significance of Remembrance Day this week and contributed to a display. Every student in the school from Foundation to Year 8 was involved.
Luke W
Open Information
Year 9
Luke made this model of a Sopwith Camel as flown by the Australian Flying Corps during the First World War. The model, and accompanying research, were submitted for Luke's Year 9 History assignment.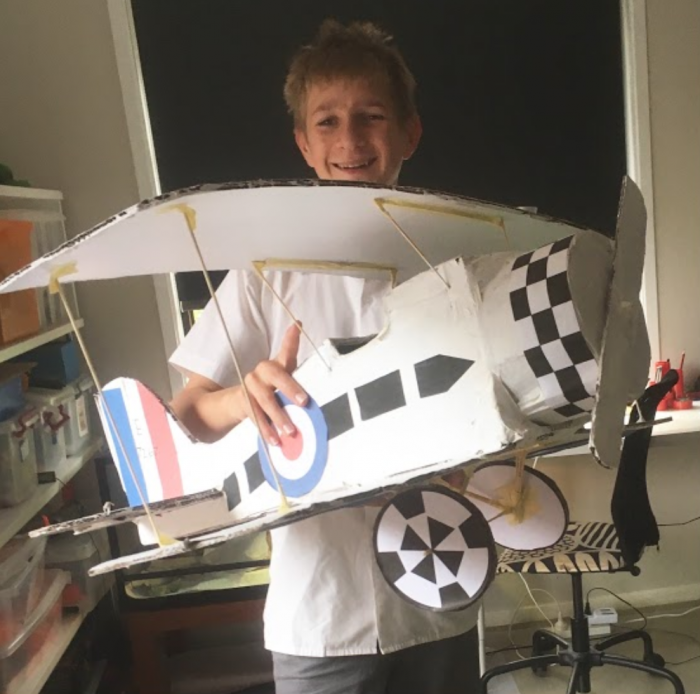 Australian Air League, Padstow Squadron
Open Information
Members of Padstow Squadron, Australian Air League, produced this fantastic education display for the League's 2016 NSW Group Review. The theme this year was 'Australian Aviation in the Great War'. Cadets from 8 years and up made replicas of First World War aircraft, researching information and completing the display.
Marrara Christian College, NT Year 9
Open Information
After completing the unit of study, students submitted to the Memorial their reflections on the First World War.
To Sir/Madam,
I am a year nine student at Marrara Christian College. We have been studying World War One this term and I will be telling you about what WW1 means to me. Although I had learnt about Anzac Day before, I understand what had happened better, I see Anzac Day differently now.
St. Luke's Catholic Parish School Year 3
Open Information
Year 3 students at St. Luke's have been doing presentations, building a classroom exhibit, baking Anzac biscuits, and writing letters from Gallipoli. Well done Year 3.
Catherine, Aged 9
Open Information
The Daughter's Father in War
I am a daughter with a father in war.
He walked off;
I waved goodbye.
In the house there was silence.
Everyone was hoping we were going to see him again.
Two weeks later I woke up from the sound of bombs.
"Bang, boom, pow!" said the bombs.
I looked at a picture of my dad - my hope will never fade.
One year later the bombs still yelled at me but I had hope.
Two years later they were laughing and laughing but once again I still had hope.
One year later I woke up to...peace?
Yes, it was peace!
The birds were singing.
One day later, tomorrow, knock-knock on the door.
Could it be?
I opened it and it was Dad with a poppy.
I asked; "what's that?", and he said three things;
"peace, hope and a friend".
Alyce, Aged 13
Open Information
In a little white house in Watervale
Balbina a widow Mother began to wail
As her six boys were going to war
All her boys had enlisted to join the Army Corp
My boys have gone off to war
Leaving behind our Aussie Shore
I do hope my boys will return home soon
To tell us of their war stories in our family room
All the days and nights they have been off fighting
With many of the men coming back to camp wounded and tiring
All over the fields they roam
No time to think of family back home
My boys have gone off to war
Leaving behind our Aussie Shore
I do hope my boys will return home soon
To tell us of their war stories in our family room
Balbina has been worrying for quite some time
Waiting by her door for a chime
Just a small letter in the mail
Would make her feel a little less frail
My boys have gone off to war
Leaving behind our Aussie Shore
I do hope my boys will return home soon
To tell us of their war stories in our family room
I knew something was wrong when the telegram came to the door
My boys must be in trouble at war
The news was bleak
I have lost three of my boys in one week.
My boys have gone off to war
Leaving behind our Aussie Shore
I do hope my boys will return home soon
To tell us of their war stories in our family room
The letter went on to say
The Army would be discharging my other boys today
The boys have all made me and their late Dad so proud
Their efforts will never be forgotten, the King and Queen have vowed.
James, Aged 11
Open Information
Lest we forget
"The time has come" an Australian said,
"Bye" as he faced the door and ran ahead.
The war has started the battle begun,
Smack,boom,crash went the lethal gun.
Oww, the pain, other soldiers cried,
Most of their friends sadly died.
All the solders tried to laugh in glee,
But they all missed their family.
Every battle the bugle sang,
The soldiers heard the deafening bang.
Soon the battle is going to end,
The pain inside will never mend.
How they wished to be back home,
Safe and snug and not alone,
More and more people die,
As more soldiers painfully cry.
When it's the end of war,
They knock happily at their door,
Soldiers go to Flanders field,
With the poppies they wield,
People look at the poppies red,
Like their blood on the graveyards head,
We remember the soldiers, who fought and died.
And all their mates fighting by their side.
We thank the soldiers who kept us alive,
And the times in war they had to survive,
We will always remember the men,
Who gave their life to defend.
Lest we forget.
Chloe, Aged 13
Open Information
Maybe
Asoldier stands, proud and stiff,
in the centre of our town,
With a rifle, never to fire again,
with its barrel pointing to the ground.
Through rain, hail, shine and wind,
he reminds us as time passes by,
That life doesn't always go your way,
it's just a beautiful lie.
The plaque that has those 'respectful' words,
moulded in the brass,
Really, doesn't mean anything,
for everyone is the same as the last.
But, for our tall, strong soldier,
and each one of his mates,
Each experience was different,
each with different fates.
Now, we know nothing of this soldier and nothing of his life,
We can only assume, his memories, his fears,
if he had children or a wife.
Maybe, he was just 16,
and needed life's thrill,
Maybe, living on rations was easy for him,
or maybe he couldn't kill.
Maybe, he was 18, his life was just finding its place,
Maybe, he was lost in the mud, unable to be retraced.
Maybe, he was 21, with a sweetheart waiting at home,
Maybe, he had her portrait, resting in his pocket,
along with his watch and comb.
Maybe, he was a young man,
believing a job had to be done,
Maybe, he thought this wouldn't kill me,
this is gonna be fun.
Stone, flesh, soul and pride
Is the legacy of this man,
He's very special to each of us,
cause he helped save our land.
So maybe this soldier is made of rock,
but his life is special and old,
Maybe, this town keeps our eye out for him,
for we know his memories are gold.
Holy Cross Primary School, Kincumber
Open Information
The night before Gallipoli
As part of their studies on the First World War, Year 6 students from Holy Cross Primary School, Kincumber, completed a writing task imagining they were an Australian soldier anchored off the shores of Gallipoli the night before the landing. Here are nine of their stories.
1.
I peer through the darkness towards the shore's outline and it feels like it is thirstily staring back at me, daring me with its evil eye to set foot on its beach. The idea of dying brings a sharp pang to my gut and makes me feel uneasy. I huddle to the side of the boat and I can't keep my family from crossing my mind, that it may have been my last goodbye. The tension is building inside of me and my stomach churns, so I decide to pray; pray for hope, pray for courage and pray for safety among my loved ones.
As I look across the boat I see my fellow troop mates, their eyes tired and bloodshot from lack of sleep, but I don't see defeat in their eyes yet, and I don't think I ever will.
2.
I'm on a one way trip to hell. This boat ride started off as an adventure and now has gone downhill. What seemed like a good idea back at the farm has now turned into regret. The only support I've got is my mates, my photograph of my family and my blanket of courage. I regret coming here now because of the terrible homesickness I feel on the inside. I dearly miss the twinkle of light in my mother's eyes and the comfort of my brothers who didn't come. I can tell everyone else feels homesick just by looking at them. We are all racked with nerves as we inch closer and prepare for Johnny Turk's attack. But there is one thing for sure… I will never let my mates down.
3.
As I lay in the hull of the boat, my attention turns to outside. I roll over and witness the moon shimmering over us, watching our every move. My mind drifts to family, as the moon reminds me of my mother, watching over me. I wonder, if this is my last moon, what will my family be feeling. I feel guilty – as if I have left them out to dry, isolated, with nowhere to go. But I have a job to do; to protect our country, to never back down, to fight to the last breath. I have made a solemn oath to never leave a mate behind, no matter how bad the situation, doing Australia proud. I am terrified – we all are – but right now we're safe; we're in the calm before the storm.
4.
As the sun sets into the sea I wonder if I will ever see it set again. I am covered in darkness and a blanket of fear as the wind howls. I am terrified, knowing that tomorrow could possibly be the worst day of my life. I am scared but I must be brave. I will do this for my country. I'll do this for my mates. But what if I die here, what if I die here and no one knows? And my family; my brother and sisters what will they think? My mum and my dad how could they cope without me? I look at all of my mates. Will they be with me tomorrow, will any of my mates survive this catastrophe? The cliff face is mocking me, daring me to show Johnny Turk what I'm made of. I am ready, ready to make my country proud… but the night is still young.
5.
Here we wait, apprehensive but excited, waiting for our turn in the Great War. I can see the look on my mate's faces of horror, misery and despair. Our rifles are at the ready, fingers on triggers. My thoughts return to happier days with my dad teaching me all his knowledge of the world. This was meant to be an adventure to experience the world first-hand but ended in hell. I look into my mate's eyes full of dread and trepidation. We have one hour of peace until chaos erupts. I make a final oath to never let up, to make my country proud.    
6.
My teeth chatter my tummy churns; my tears carve a wet path down my face. I know that when the dawn sun rises we will go, go into that hell hole where the cliffs tower over us, mocking our fear. We all know Jonny Turk lurks up there waiting to shoot. I am infuriated with the Poms. Why would they send us into a death trap, like lambs to the slaughter? What seemed like such a grand adventure on the farm is now my worst nightmare. The idea of not seeing another starry night like this makes me cringe. I might never see my family again or feel their loving embrace. But I will not let my mates down If they fall I will carry them; if they die, I will die with them. I look at their faces; blood-shot eyes filled with fear yet determined to do their bit. We are young men, from a young country and we are determined to do it proud.
7.
The night is dragging, as I sit in this boat, agonising over my plans. Skittish minutes tick by as I rage at the Poms asinine decision to invade this hell hole. They're ready for us,, ready for the boats to hit the shore. My thoughts turn to home. I'll come home, I promise. I see their faces; my seven year old sister keeps asking where I am. A bucket of tears carve a pathway down my face.
Johnny Turk has all the advantages; anything could happen.
No matter how petrified I am I won't let my country down, nor my mates.
The night before Gallipolli                                                                                                                                                            
8.
Dear Diary
There are still 6 hours till dawn. I am more terrified and nervous about letting my Australian country down than of dying. Will this be my last night on earth? My stomach is turning. I feel so sick. I'm home sick and am now regretting joining the army, But I will never stop or let down my mates. I need to show bravery, respect and courage and if we want to pull this off we definitely need team work.
The boat is rocking; I 'm trying my best to get some sleep. I am getting more nervous as we get closer and closer to Anzac Cove. My mates are asleep but I know they are determined and ready; as am I.
9.
It's five hours until we get there and I can already see the horror in my mind.  I can feel the moon mocking me as we head towards my mind's nightmare. A wind of regret chills my blood.  My mates and I are terrified at what lies ahead. We are all scared but we are determined to do the job we came here to do.  I am not going to let my mates down tomorrow, or my family, or my country.  In the morning I venture into hell with my mates.  I will stand like a true Aussie and won't back down.
Stella, Aged 10
Open Information
Lone Pine
A mother's love for her son
A seed
Planted in the Australian soil
Drank tears of her loss
And grew.
We as a nation
Tend the tree
Like a new born
Feed with it Remembrance
Water it with Honour
And watch over it with pride
And never forget.
Harry, Year 6
Open Information
Gallipoli, friend
The soldiers fought for us then
Remember proudly
As men fell, death took
Those who died for us bravely
Do not forget them
Gunfire, blood, smoke
Deafening soldier's ear drums
Screams, screams everywhere
As they don't grow old
As we who are left grow old
They lie in our hearts
To god I do ask
How must they have felt back then?
With horror so fierce
Blinded, lost and scared
Wishing to be home quite soon
Trying to stay sane
Imagine, yes do try
Think what it must have been like
For those frightened men
A terrible loss
In Gallipoli that day
Again? No never!
Never, ever, no
Shall their courage leave our minds
and Lest we forget
Chloe, Aged 12
Open Information
A True Anzac
T'was the 25th of April dawn about to break,
We had our rifles ready, oh how our shoulders ached.
I remember my mates silent, no-one dared to say a word,
We thought we saw some movement, but all our minds were blurred.
Some boots hit the sand, but some just sank straight down,
All I saw was a cliff face and a sea of khaki and brown.
Jess, Aged 13
Open Information
13 year old Jess Love painted this artwork to represent the experiences of her family in wartime. Titled A Child's Sacrifice, the painting shows her father, Shaun, in the foreground. The image is based on a photograph taken while he was serving in Western Sahara. Shaun also served in East Timor, Iraq and Sinai. The silhouette is Jess' great grand-father, Ernest Gibson, who served during the Second World War.
Mullumbimby Public School & St John's Catholic School
Open Information
Students from these schools participating in the opening of Re-Membering Our ANZACS exhibition by Deborah Gower at Ex-Services Club Mullumbimby on 11 November 2014. The display shows a number of wooden crosses with hand-written messages. These crosses are part of one of the AWM's First World War Centenary projects, which commemorates those who served and died during the First World War. Photos: Paul Schneider Photographics.
Bunbury Cathedral Grammar, New England Girls School, Oakburn College, The Armidale School, Trinity Anglican School & Vivek High School
Open Information
A group of 46 students and staff from these schools visited the Gallipoli Peninsula in October 2014. All these schools belong to the international network of schools known as Round Square. The students researched the campaign before their visit and participated in a ceremony at the Lone Pine Memorial, where they lay their commemorative crosses.
Sunny, Year 5
Open Information
Gallipoli 1915-1916
On that dark and gloomy April night,
Away from our beloved hometown,
We loaded our guns – ready to fight,
Frozen with fear as we squatted down,
In the feared filled trench,
The blood of soldiers lost in the war,
Down low you could smell the stench,
Dead soldiers seek the white door.
Far back they sealed the fates of us all,
With each doomsday shell,
The ones were lucky that didn't fall,
No man could escape such hell.
Morrison, Aged 14
Open Information
The young Aussie boy
No more than seventeen
Split up into groups of six
Of blokes he'd never seen
One said "How's it going mate
You seem a bit too young!
You don't look that much older
Than a man of 21!"
He then said, "Pleased to meet you, I'm Martsson
But you can call me 'Mart'
Just as they had started talking
The boat was to depart
Weeks and weeks at sea
Through the thickened mist
Land at last was sighted
An urge they couldn't resist
Each and every soldier
Shouldered their loaded gun
"Remember the rules" The commander shouted
"One for all, and all for one!"
The Young Aussie Diggers
Stepped out onto the beach
And before they could even turn around
The boat was out of reach
As it sailed off into the distance
The men began to march
The fog now in their faces
The fog as white as starch
The eerie silence followed
See or hear, they could not
They took their battle stations
Then came the first gunshot
Suddenly, the air exploded
Men dropping left and right
"Damn those bloody Turks" Mart said
"They're putting up a fight"
"I'll cover ya to that trench" He said
"You'd better run like hell!
Little did Mart know
The front line had already fell
It was then he saw the battlefield
The boy of seventeen
His comrades dropping, one by one
Their demise all but clean
The sand turned red
The sand stained with blood
The tides, ever-rising
The beach began to flood
The bodies of the defeated
Of those who couldn't flee
The raging tides behind them
Pulling them out to sea
His blood froze in an instant
His veins as cold as ice
This wasn't about the kill count
This was about sacrifice
The ground beneath exploded
And as the sand subsided
He saw Mart's tattered figure,
His fate none but decided
Sprinting across the sand
Through the leaded rain
A bullet hit his shoulder
A shoulder now in pain
Once he'd made it to Mart
The man, waiting to die
Mart spoke his final words
The boy began to cry
The skies above were raging
The boy gripping his injured limb
The heavens split right open
And cried along with him
Those years have long passed
He lived day by day
His skin turned to wrinkles
His hair now of grey
At the grave of Martsson Williams
For that was his name
This man forever remembered
Deserving of his fame
The polished marble headstone
This alone, marked the life
Of a 31 year old man
Who made the ultimate sacrifice
The 'boy' of 93
Now grey and old
His tattered army jacket
His only shield from the cold
He let out his tears
And stared at the ground
Mart's grave was empty, he knew
His body, never found
He remembered Mart's last words
"Make the decision you won't regret"
He put his hand to his heart, and whispered
"Lest We Forget"
Henri, Balmain Public School
Open Information
Mary-Anne Taylor, her mother and her brother and sisters were standing in the hot sun watching the parade go past. It was the spring of 1914 and war had broken out three months ago. Her father came to Australia to work in the goldfields but unfortunately made no money to go home. After years' worth of savings, he finally got enough money to take a trip to England. When the war started Mary-Anne's father was in England visiting his sick mother, so he joined up to fight for the British Empire. He was fighting on the Western Front against the Germans. That parade brought back memories of him and made her start thinking about when she was going to see him again. Little did she know that she was never going to see her father again.
Mary-Anne was born in July 1892 in Carlton, Melbourne and was brought up in a small cottage with her six siblings. She was the oldest of the five girls in her family so she was forever looking after her sisters, whether they had cuts or needed help with their homework. She started her nurse training in December 1911 and joined the Australian Army Nursing Service (AANS) soon after.
The spark that lit the fuse at the start of World War I, was the assassination of Archduke Franz Ferdinand. The war was raging in Europe with the Allied Forces (Britain, France and Russia) up against the Central Powers (Germany and Austria Hungary). Australia's Prime Minister Andrew Fisher pledged full support for Britain. Australians were fully supportive of the war because they wanted to prove themselves to the British Empire. Aboriginals went as well also wanting to prove themselves as Australians.  At the start of the war there were many volunteers and some of those who were accepted were sent to Egypt to fight the Ottoman Empire (Turkey).
A month after the parade the Taylors received a letter from the British army saying that her father was dead. The whole family mourned that day for the loss of him and that same day Mary-Anne and her brother Jim Taylor decided that they would go to war. The reasons why Mary-Anne wanted to go to war was partially the loss of her father and the desire to help, and partially to support her brother.
In late-1914 she and her friend Julia went on a boat and headed for Egypt. On the long voyage Mary-Anne and the other nurses were busy assisting with vaccinations and operations. She was posted at the 1st Australian General Hospital (1AGH) while Julia was posted at to the 2nd Australian General Hospital (2AGH).
While she was there the Australian troops were training near Cairo, ready for the time when the British Empire needed them. By the end of 1914 Mary-Anne was one of about 300 nurses that had come to Egypt. Mary-Anne remembered the terrible events 25th of April 1915 well, with the wounded coming in fast and with injuries ranging from blown off arms or legs to bullet holes right through thighs and hips.
At 4:30 that morning the Anzac troops had landed on the Gallipoli Peninsular but the Turkish were ready for them. They rained bullets on them and that day there were 2000 Anzacs wounded or dead and Mary-Anne nursed many of them.
 It was not all work. Once she was allowed to have some time off where she went to see the famous pyramids and the sphinx. She also went to the markets with her friends and bought artefacts to send home. She even got to ride a camel.
Mary-Anne was worried about her brother, she had not heard anything about him and the day he came into her ward she wept to see him in the state he was. His left leg had been blown off by a Turkish shell and the bleeding could not be stopped. Mary-Anne was so close to her brother and while she was bandaging up the wound she remembered the time when they went to the Melbourne Beach with her whole family. There they went and picked up the prettiest shells they could see.
When Jim came to he started to talk to Mary-Anne about what the war on the front line was like. He told her that when he landed it was quite hot and pleasant but eventually it got freezing. Jim and the other soldiers had no proper clothes due to the fact that all their clothes were entirely worn out. Jim told Mary-Anne about the small amount of water that he was rationed. He said he even shaved with tea so not to waste water. He said he was really looking forward to mum's roast when he was on leave because the food was inedible. Some of the things he had were bully beef (a type of canned beef), biscuits made by his mum, bread, bacon, cheese, Julienne canned vegetables and corned beef. Jim said the worst thing about the trenches were the rats and the flies. They spread disease and fed on the open wounds of the injured. "When there was a truce I had a friendly chat with the enemy. They're not half as bad as we all think they are Mary-Anne." He went on, "but the next day we were enemies again, it was strange. I went to war for the adventure but not this, this horrible life".
A week later a ship came to take Jim home. It was a sad goodbye for Mary-Anne but she was happy that he could go home to mum and help look after the family. Jim went onto writing letters back to Mary-Anne telling her that all was well in the family.
Life remained busy for Mary-Anne with the numbers of injured and sick growing so high the nurses had to take over a local amusement park, turning the ticket office into an operating theatre and the skating rink, the scenic railway and the skeleton house all into wards. There were up to five deaths a day and sometimes over 250 patients to look after.
It seemed like an eternity, but after four long years, in 1917 Mary-Anne finally returned home. She had seen death, sorrow and pain, but when she came home she wanted to continue her career as a nurse where she worked in the Alfred Hospital for many years.
Bibliography
Australian Government, Department of Veterans Affairs http://www.anzacsite.gov.au/5environment/nurses.html
Australian War Memorial The nurses' experience of Gallipoli from their letters http://www.awm.gov.au/atwar/ww1/
Australian War Memorial Gallipoli  http://www.awm.gov.au/encyclopedia/gallipoli/
Australian Government Women in action - nurses and serving women http://australia.gov.au/about-australia/australian-story/women-in-action
Australian War Memorial Great War Nurses http://www.awm.gov.au/exhibitions/nurses/ww1/

Notice
The Australian War Memorial does not necessarily endorse the views expressed within these examples of students' work, which remain the intellectual property of their respective authors.
Sara, Belconnen High School
Open Information
Mirrored Memoirs
Before the wake of days despise,
The soldiers daunt their high command.
The pale, early morning skies
Expose the endless vast of land.
A sea of brown flows limitless –
Dry grass clumps and rutted earth.
The Germans stand in coalesce
Prepared to fight for all they're worth.
Much horror soon is yet to come,
Inferno's close, its breath grows raucous.
Silence – not a murmured hum,
The pending soldiers, greatly cautious.
The lines of men that stand prepared,
Are shielded by their masks of heft.
Their frail bodies – under–cared,
Are all the hope that they have left.
A pair of brothers – twins at such,
Stand amongst this German force
Shaking with Hell's fearsome touch,
Their safety, no one can enforce.
The tactic rises; bombs of gas
An agonising, fearful fog
The Germans cause, harsh death at mass
As Allied forces breathe the smog.
The veil of sour–coloured mist
Rolls across the dusty plains.
Taking out those who exist
Thriving anguish yet remains.
Brother twins, side by side
Follow through the fatal haze.
Nerves upon them do their pride,
Messing with their mental phase.
Death surrounds them, hoarding courage.
Screaming torment pains their ears.
Suffering faces, for help they forage.
Souls of bravery disappear.
Thunderous echoes, booming loud
Travel amidst the gloomy fog.
Like broken waves, a stratus cloud,
Explosions to the soldiers flog.
The twins are struck and torn apart –
Ripped away from brother's side.
Lost among the misty art –
Swamped upon by Death's harsh tide.
The eldest brother – vision blurred,
Stumbles in the frantic scene.
He screams and shouts, his words are slurred,
His sibling – nowhere to be seen.
Surrounding fear and cruel despair
Flood the eldest brother's state.
Torture would not close compare,
For now he knows his brother's fate.
Crumpled in a blood stained heap
The younger twin lies still.
Plunged into an endless sleep –
Another pointless kill.
Staring shocked with disbelief,
He crumbles to his knees.
The eldest brother, filled with grief
Curses at his thieves.
His blood-smeared face, from those unknown,
Forms a sight of hate and sorrow.
For he has lost a man well-known –
A love, you cannot borrow.
A sudden sharp of dreadful pain,
Forces through the live twin's back.
He looks to see that he's been slain
And suddenly, his words turn black.
The injured and strident moans
Wake him from his slumber.
The eldest brother, all alone
Yet lives another number.
His shaky hands, reach for his chest
In which he finds a rigid weal.
The foul and ugly manifest
Reminds him of his tortured Hell.
Images flicker through his mind
A cruel, despiteful, nightmare crimson.
His horrors are not left behind,
An everlasting, bitter prison.
He swiftly lifts his aching build
And stares with shaken eyes.
The mirror shows an image killed;
His brother, in disguise...
Ryan, St. Joseph's Regional High School
Open Information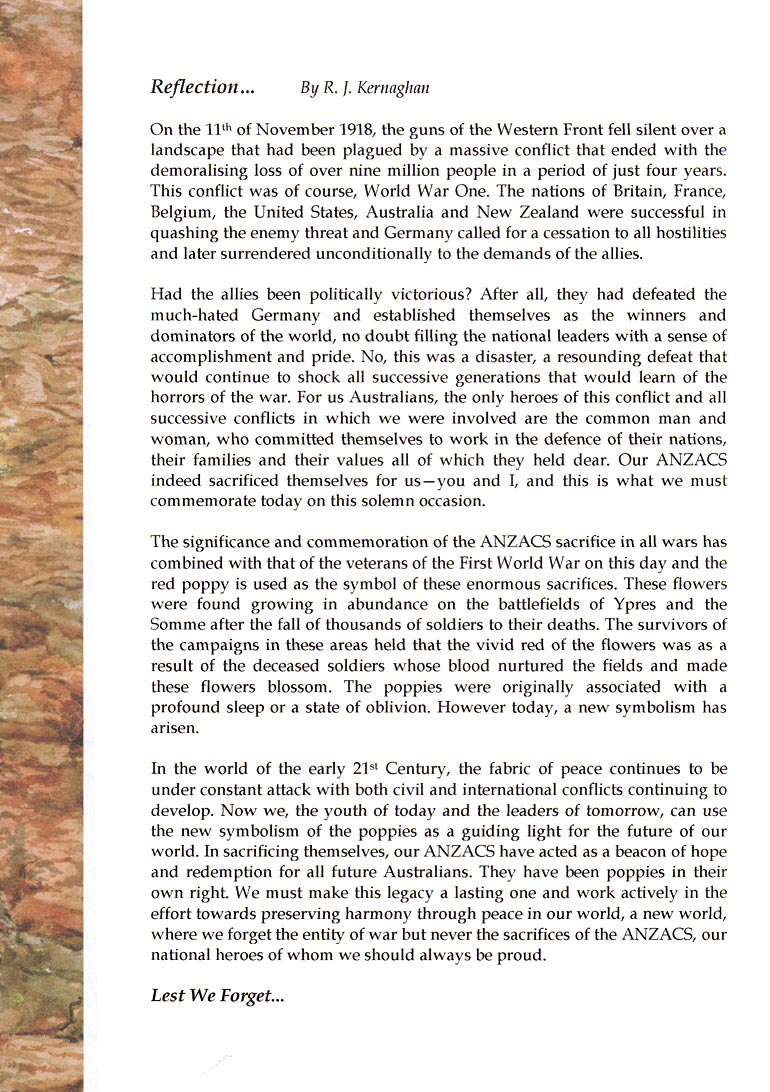 Year 6 students Trinity College, Albury-Wodonga
Open Information
Dear Sir/Madam,
On behalf of Year 6 students at Trinity College, we would like to thank you for touring us and showing us around the War Memorial. We really enjoyed the statues, the movie and the stuffed horse, all these things had stories about war heroes.
We remember when we saw all the huge aircraft and we saw the light show, the gift shop was full of interesting things.
We had great fun doing all the activities and looking at all the old features and we could touch so many different things such as hard tack and all different relics.
Kind Regards,
Vicke, Ava, and Danielle, Year 6 students
Trinity College.
Bernard, Aged 10
Open Information
Fiona, Hughes, ACT - Aged 10
Open Information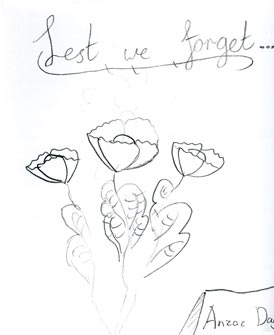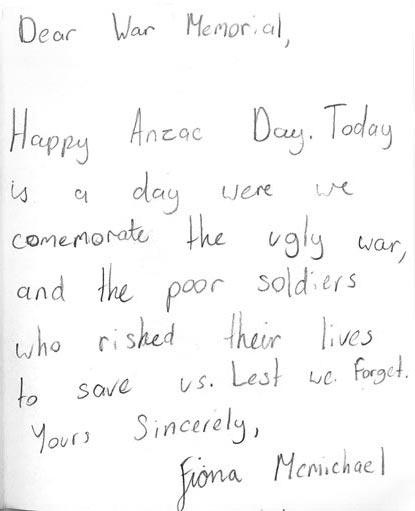 Years 5/6 students Hale School, Wembley Downs, WA
Open Information
Middle School students from Hale researched an Old Haleian who was lost in a theatre of war and whose name appears on the Memorial's Roll of Honour. These posters summarise their findings.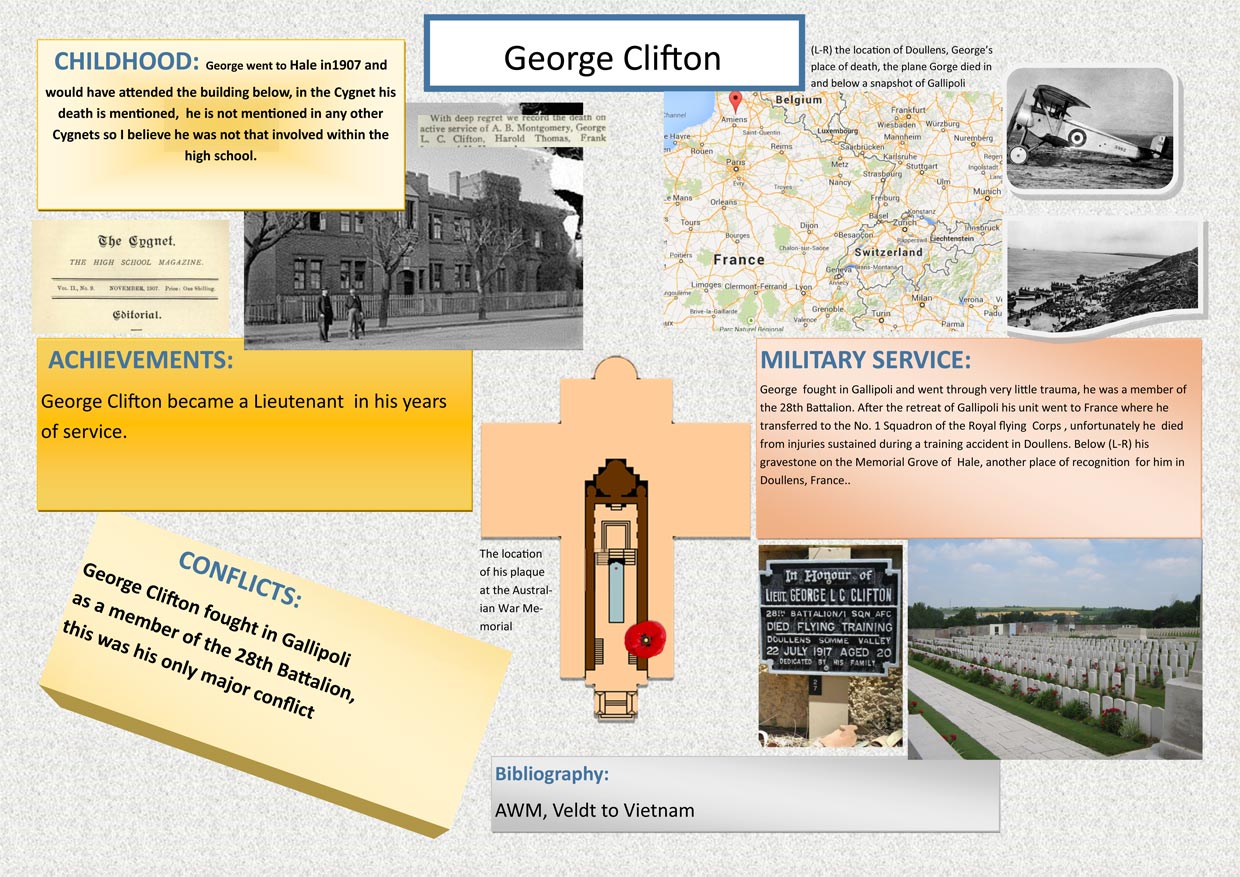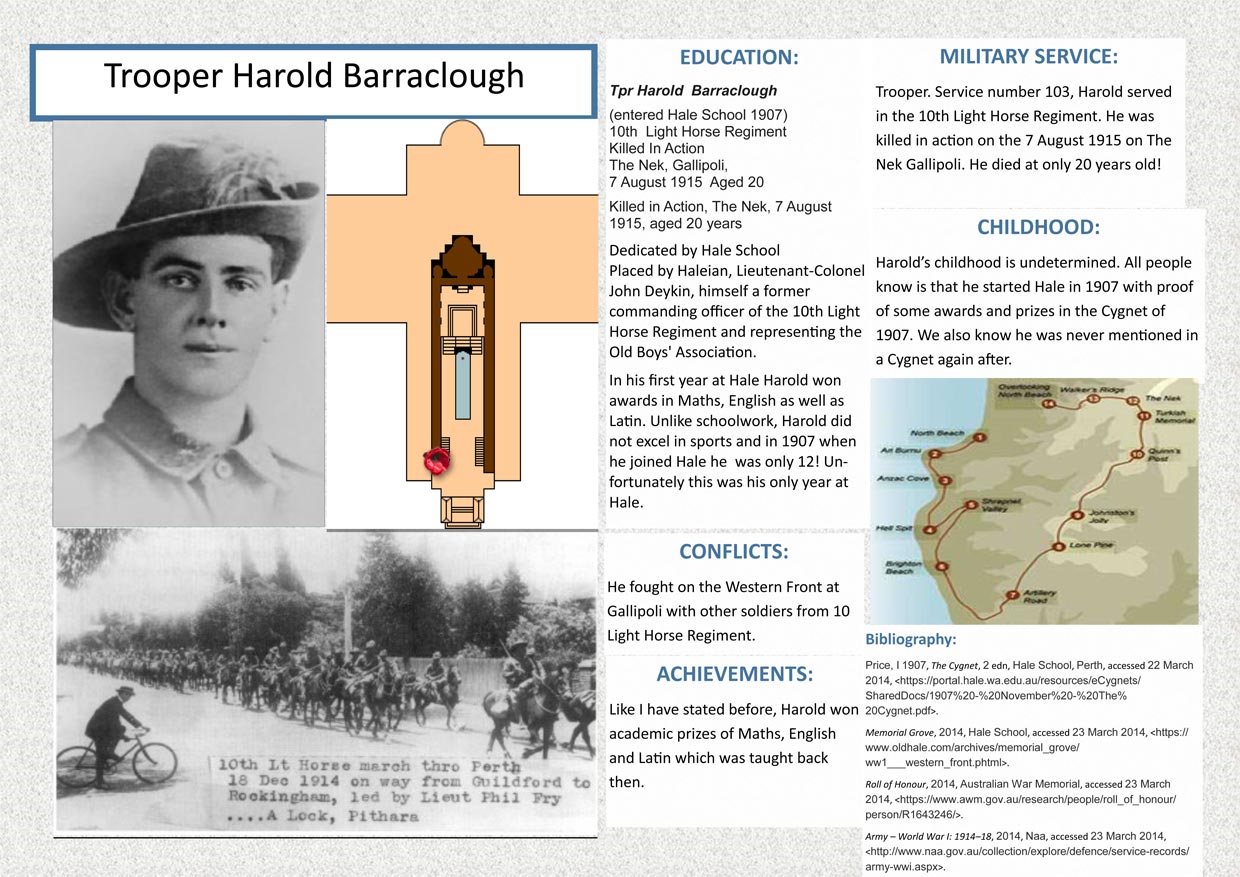 Vanessa, Aged 14
Open Information
The Unseen Murderer
The sky cries, all day it has cried
The cold sodden hearts and muddy earth are untouched
For not one but many have just died
And no goal has been reached.
Their precious lives lost, a generation wasted
Carried away by the wind and mustard gas
Erased from the earth by shells and false hatred
Their world razed while they watch in a trench pass.
Eating, sleeping and walking in their graves
Their Generals commanding kilometres away
Fighting against reason and living worse than slaves
Families praying the telegram never reaches their doorways.
The sky shrieks for the tortured men and cries
For one stone pillar cannot replace the millions of stolen lives.
Alexandra, Aged 9, Young Public School
Open Information
Our Brave Young Men
Our brave young men went off to war
The Australian New Zealand Army Corps
Young and scared they stood their ground
Bullets and bombs flying all around
In Flanders field the soldiers bled
staining the ground an awful red
After the battle the poppies grew
In honour of our Anzac crew
On Anzac day we gather a crowd
remembering heroes our nation proud
They sacrificed and lives were lost
Their loved ones paid a heavy cost
Our brave young Diggers answered the call
Risking their lives for us all
Our brave young men went off to war
The Australian New Zealand Army Corps.
Briarna, Age 9
Open Information
Briarna has drawn this charcoal sketch of an Anzac soldier in Flanders Field.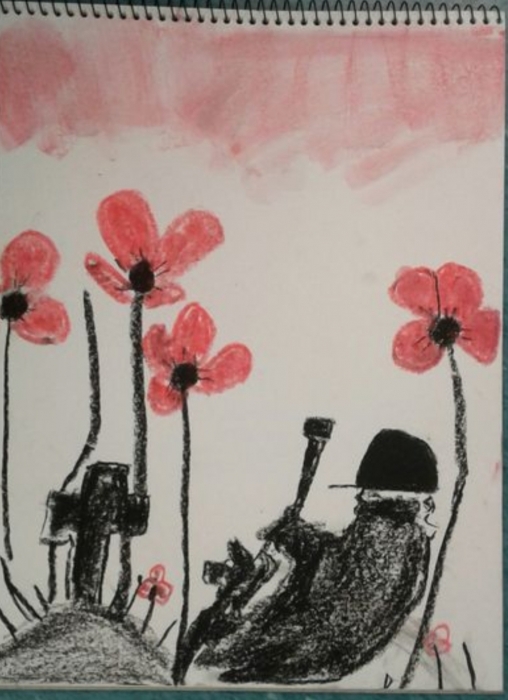 Notice
The Australian War Memorial does not necessarily endorse the views expressed within these examples of students' work, which remain the intellectual property of their respective authors.