Forging the Nation - Dame Nellie Melba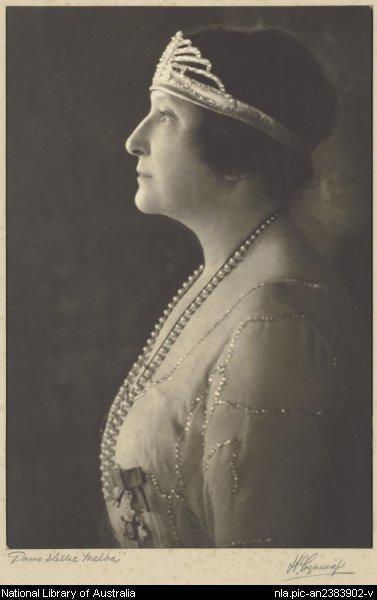 A modern and accomplished woman
Helen Porter Mitchell adopted the professional name Melba to acknowledge her birthplace, Melbourne. She began to study singing seriously after her marriage in 1882. Following appearances in Sydney and London, she made her operatic debut in Brussels in 1887. It was the start of a phenomenal 38-year career on the world stage.
Melba won acclaim at Covent Garden, London, and the Metropolitan Opera, New York, and subsequently in most of the leading opera houses of the world until her retirement. Divorced in 1900, she could be forthright, vain and scandalous. Australians saw her living a gilded lifestyle among the best of international society, and she became the epitome of glamour and fame. She was mobbed on her return home in 1902.
In 1909 Melba undertook a sentimental tour of Australia, and was greeted with adulation wherever she went. During the war, international travel was restricted, but she was energetic in her war work. Melba was appointed a Dame of the British Empire in 1918 and elevated to Dame Grand Cross in the order in 1927.
In 1928 Melba held her last local performance before going back to Europe, but her health had begun to decline. She returned to Sydney where she died on 23 February 1931, aged 69.