The final piece: photograph reveals panorama of Hamel village shortly after famed battle
Almost 100 years after the fighting at Le Hamel in France, a photograph from the Memorial's collection has resurfaced to reveal a panorama of the village at the centre of one of the most significant battles involving Australian troops in 1918.
Photos, Film and Sound curator Jennifer Selby was reviewing images of Le Hamel that were taken shortly after the fighting on 4 July and depict Australian troops in the recently captured German positions on the hill known as The Wolfsberg – the present-day location of the Australian Corps memorial on the Western Front. The fighting at Le Hamel was the first major British attack in France in 1918. Carried out under the direction of the newly appointed commander of the Australian Corps, General Sir John Monash, the action involved two brigades of Australian infantry supported by US troops attacking German positions in concert with Australian and British artillery, tanks, and aircraft. The infantry took all of their objectives in just 93 minutes.  While the battle was considered small in scale, the tactical lessons learned at Le Hamel influenced British operational planning for the Allied counter-offensive that followed the battle of Amiens on 8 August 1918.
Selby was aware of two images that showed the left and right views of the ruined village. She searched the Memorial's collection for further photographs of Le Hamel and uncovered a third photo: the centre view of the French town.
The centre view image had been catalogued with a different number from the left and right view photographs, and therefore had not been recognised as being part of the same series.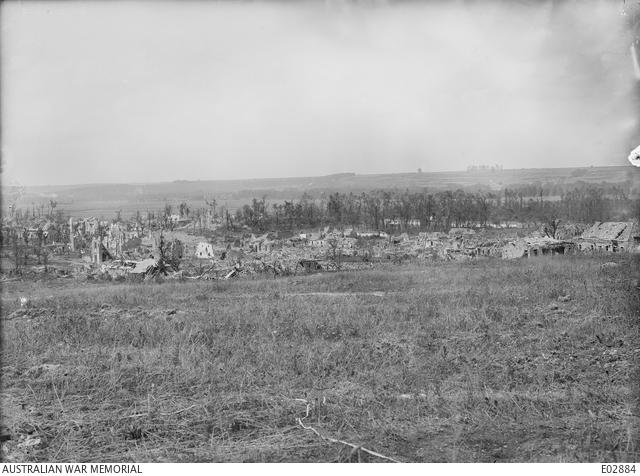 The original glass-plate negatives of the three images were rescanned and digitally stitched together by the Memorial's Multimedia Section, resulting – for the first time – in a panorama of Hamel village.
"The panorama gives us an overall perspective of the battlefield and you can actually see some markings of the battle," Selby said. "The photo now really depicts the conditions and human element of the war through the ruined village and its surroundings."
The new panorama has been integral to the development of the Memorial's Hamel VR experience, an immersive virtual reality event commemorating the centenary of the battle.
Audiences will wear a VR headset and headphones to experience the story of this key action from the perspective of an airman, infantryman or tank crew. The battlefield, complete with artillery, tanks and aircraft, will be presented in a combination of 3D and 360-degree video during the 10-minute experience.
Read more about the events of 1918 in Wartime issue 82. Purchase a copy here, or subscribe from $36 for four issues a year.
Experience the battle of Le Hamel in VR at the Australian War Memorial from 22 June to 22 July. More information visit www.awm.gov.au/hamelvr