Captain Benjamin Farinazzo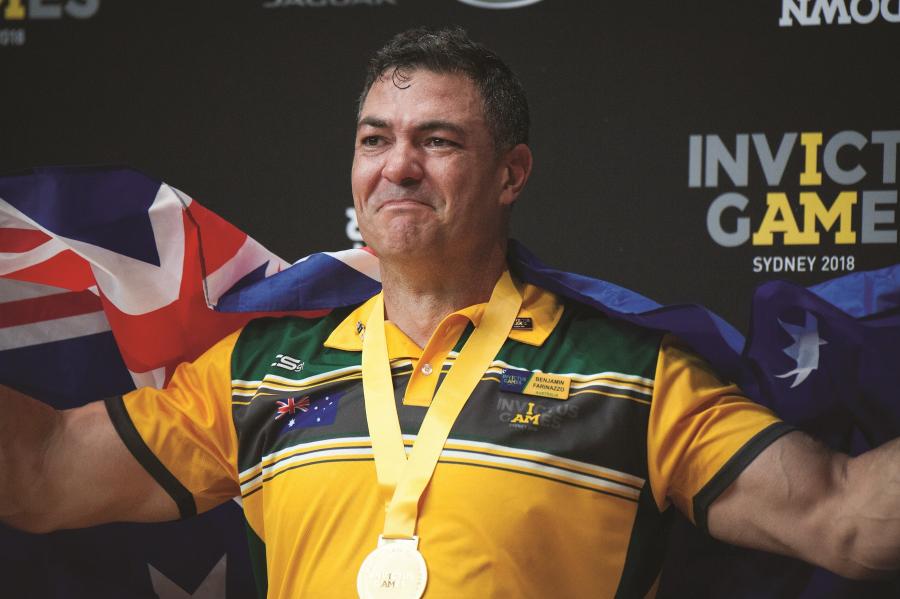 In Benjamin Farinazzo's lounge room three traditional Timorese weavings, called tais, hang from a spear. They were gifts of respect and appreciation, reminders of his time in East Timor (Timor-Leste), where he served as a peacekeeper in 1999. Known to his friends as "Ben", he was born in Brisbane and attended boarding school on the Gold Coast. Growing up, Ben loved athletics, and riding horses and BMX bikes. He was also creative, and enjoyed art and building cubby houses.
Ben was an army cadet at school, and enrolled at the Australian Defence Force Academy (ADFA) in Canberra after year 12. During his army officer training, he appreciated spending time in the bush and decided to join the infantry. While at ADFA he was sent to Indonesia, and later studied the language. Ben had an interest in languages, and already spoke Italian, which he learned from his grandparents as a child. He graduated from ADFA, and was awarded the Chief of Defence Force Army Prize for leadership and academic and military excellence.
After years of officer training, Ben was excited when he learned of his deployment with the International Force East Timor (INTERFET). The Australian-led force was established to restore order and provide humanitarian aid following extreme violence in the country. Once a Portuguese colony, East Timor was invaded and taken over by Indonesia in 1975. In 1999 a referendum was held and the people voted overwhelmingly for independence. Pro-Indonesian militia reacted viciously, and many East Timorese were killed or displaced in the ensuing chaos. Ben was sent as an interpreter and community liaison officer, and recalls his first impressions of the country:
The place was on fire. All the houses had been burnt down and people had nowhere to live. There was no fresh water, food or showers … I was glad that we were there to help them.[1]
By the time Ben arrived many people had fled to the hills to escape violence in urban areas. Terrible events had occurred in places like Suai, where up to 200 people were killed in a church by the pro-Indonesian militia. In the aftermath of this massacre, Ben was part of the team that helped displaced children search for their families. On a cloudy day, he attended the first church service held since the killings. There he met a local woman named Ibu Terezina:
All the East Timorese were quiet. I walked over to Ibu Terezina and asked her if she wanted to say something. She started singing "Hallelujah". Everyone joined in and a ray of sunlight split the clouds, shining brightly onto everyone gathered. There were goosebumps and tears. A soldier come over to me and said, "After all that I've seen I wasn't sure if there was a God, but he was definitely among us today."[2]
Ben's team was sent on patrols in the hills, where he explained INTERFET's mission to the locals, offering hope for a brighter future. Understanding that people were scared, he told them that the peacekeepers were there to bring safety and assist with rebuilding homes and lives. As Ben was one of few soldiers who spoke the language, he built strong relationships within the local community.
On a stormy evening at the team camp Ben was told some locals were asking for "Captain Ben". Standing at the front gate was a man and two women, one of whom was heavily pregnant. Her name was Umbellina, and her husband and mother had accompanied her from the hills in the intense rain, as she was about to have her baby. They had been hiding for more than a month, surviving on boiled tree roots. Ben took the family to the makeshift medical centre in the camp and a doctor prepared the area for the birth. Ben was asked to help:
I had done a lot of training … to become an army officer but nothing could have prepared me for this … I tried using words like nafas, meaning breathe, and dorong, which means push. I hope that helped. Eventually a healthy baby boy arrived and the storm stopped. Everyone was so happy. It was a strong reminder that despite the terrible conditions that life could and must go on. A beautiful little baby boy, born on a cold, concrete floor of burnt-out classroom in the middle of a raging storm. A symbol of hope, new life, and new beginnings.[4]
After the baby was born, the parents asked Ben if he would like to name the child, but he graciously declined. They smiled and asked if they could name him after Ben, a moment which he says he will never forget.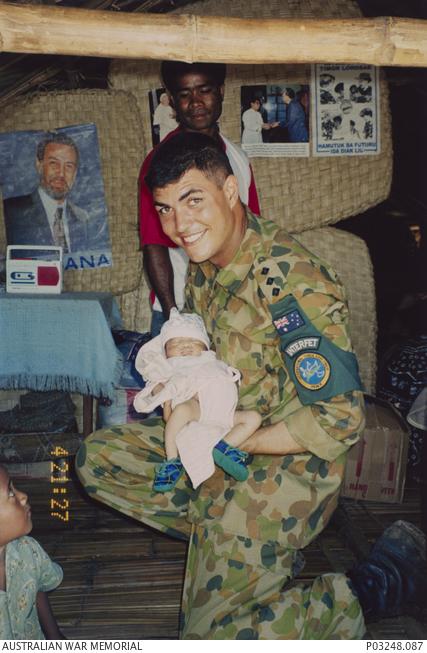 Before returning to Australia, Ben visited the family to make sure they were all right, and he gave them a few items from a care package he had saved. He recently reflected:
I never saw Baby Benjamin again. He would be 20 years old this year. I often think about him and his family. I wonder if he is still alive and what his life is like. I would like to go back one day and look for him and introduce him to my children.[5]
Umbellina gave Ben one of the tais that now hangs in his lounge room. He received the others from Ibu Terezina, and a man named Hermenezildo, who taught Ben local dialects.
Ben retired from the army in 2002, and has since worked in several senior executive positions and as an ambassador for various charities. He considers his service in East Timor to be the highlight of his military career, though the distressing events he experienced there left him with deep mental scars. Ben was later diagnosed with post-traumatic stress disorder (PTSD). During his recovery, he was seriously injured in a mountain bike accident. Ben had to learn to walk again, and he credits the constant support of his wife, Jodie, and their three children with saving his life.
Ben was selected to compete in the 2018 Sydney Invictus Games, which uses the healing power of sport to motivate and encourage physically and mentally wounded veterans. He met many local and international competitors and was inspired by their spirit:
There were so many incredible stories. Stories about having courage and doing your best despite the challenges in life … I felt like I was surrounded by superheroes.[6]
Ben won two gold medals in indoor rowing and achieved a personal best in powerlifting at the games. He had not expected to win, and was already grateful for the opportunity to compete. On being awarded his medals, an overjoyed Ben shared a celebratory hug with his family and friends who had helped him get there.
Ben continues to advocate for veterans and their families, and encourages those struggling with their mental health to seek help. He believes Australian children can commemorate the service of peacekeepers by learning and sharing their stories.
The impact of service
Ben is an ambassador for Soldier On, an Australian organisation which helps service personnel and their families to build successful futures through heath, wellbeing, employment, education, and social programs. Soldier On promotes positive mental health as well as physical health.
Since 1947, Australian peacekeepers and aid workers have deployed to conflict and disaster zones across the world. Many have witnessed and experienced severe emotional distress as a result of their service. Some will relive traumatic events in vivid memories and nightmares, and may become overly alert and detached from the people and activities they love. These symptoms are often a sign of PTSD, and can lead to conditions like depression and anxiety.
With professional support, people who suffer from PTSD can manage their symptoms and feel better. Ben found that participating in sport and exercise greatly helped with his rehabilitation, and he names competing in the Invictus Games as one of the best experiences of his life:
We had no idea that the Invictus Games were going to be like an Olympic Games, with so many people from around the world. Everyone was so supportive and positive that it made you feel so special and lucky. It was a week filled [with] tears, goosebumps, and hugs! [7]
Activities
The INTERFET medal was awarded to Australian Defence Force personnel who served in East Timor during the INTERFET campaign from 16 September 1999 to 10 April 2000.

What do the symbols and colours on the medal mean? The following link to the International Force East Timor Medal may be useful.
Summarise the ways in which Ben assisted the local population during his time with INTERFET.
This photograph was taken in 2001 by Gary Ramage during his posting to the UN mission in Dili, East Timor.

Imagine you were serving in East Timor, and sent one of these postcards home. What would you write on the back?
Gary has travelled to various war zones for more than 20 years. Read about Gary, and answer the following questions:

What are some of the challenges that photographers face in war zones?
Why do you think Gary creates some photographs in black and white?
What can a photograph provide that other sources cannot?
 The Invictus Games is an international sporting event held for servicemen and servicewomen who have suffered physical or physiological injuries while serving their country.

Find out what the Latin word "invictus" means.
The games were named after the poem Invictus, by William Ernest Henley. Locate the poem online, and discuss its meaning. How do you think this poem relates to servicemen and servicewomen?
The aim of the Invictus Games is to use the healing power of sport to motivate and encourage physically and mentally wounded veterans. How might sport support healing from these wounds?
In 1999 artist Wendy Sharpe recorded a moment when Australian soldiers were sitting down for Christmas dinner.

What clues can you find that suggest this was a festive occasion?
What effects might deployments have on families when loved ones are away from home during special events like Christmas and birthdays?
List some ways in which Australians have helped service people celebrate when they were on deployment.
On 21 December 1999 the "Tour of Duty" concert was held in East Timor for thousands of Interfet personnel and locals. You can view the concert on video. The concert was broadcast in Australia. How did the troops use this opportunity to communicate with loved ones back at home?
Related objects
Footnotes
[1] Correspondence with Ben Farinazzo, 2019.
Bibliography
Claire Hunter, "This is who I am", accessed 18 April 2019.
Correspondence with Ben Farinazzo, 2019.
Department of Defence, "Australian team: Ben Farinazzo", accessed 18 April 2019.
Department of Veterans' Affairs, "Post-traumatic stress disorder (PTSD)" , accessed 12 January 2021
Open Arms, "Post-traumatic stress disorder", accessed 12 January 2021
Soldier On, "What we do", accessed 18 April 2019.
"UNSW graduate personifies the spirit of the Invictus Games", accessed 18 April 2019.