Dawn of the Legend - Charles Bean
Australian-born, though raised in Britain, Charles Bean returned home in 1904, aged 25. He became a newspaper writer and in 1909 he was sent to western New South Wales to write about the wool industry. Rural Australia inspired him, for here he believed were the distinctive virtues and values of the ideal Australian.
In 1914 Bean was selected to accompany the AIF as official war correspondent. He joined the troops in Egypt and on Gallipoli, and later on the Western Front. Bean landed at Gallipoli on 25 April 1915, carried towards the shore in HMS Ribble. But his account of the landing was not the first to reach Australia: he had to wait until he was accredited before he could submit his stories to the home newspapers. Eventually, he would become the only correspondent to cover the campaign to its end. He was later appointed to write the official history of Australia in the war.
Thin, bespectacled, and steeped in Victorian values, Bean was a close observer of the Australian soldiers. He cannot be credited with creating the ANZAC legend for the troops did that, but he enshrined it for a receptive public in his volumes of the Official history of Australia in the war of 1914–18.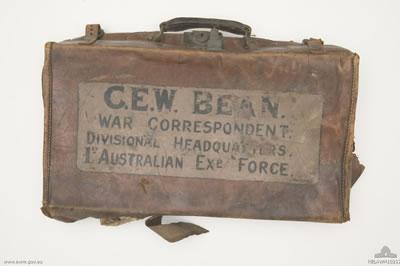 It was eighteen minutes past four in the morning of Sunday, 25th April, when the first boat grounded. So far not a shot had been fired by the enemy. The men leapt into the water, and the first of them had just reached the beach when fire was opened on them from the trenches on the foothills. The men did not wait to be hit … they simply rushed up the steep slopes.

Charles Bean