Dawn of the Legend: 25 April 1915
25 April 1915 is a date etched in Australia's history. Its anniversary is commemorated across the country each year as Anzac Day. To many this is Australia's most important national day.
In the morning of this day Australian troops made a landing on a hostile shore along the Gallipoli peninsula in Turkey. Some saw it as Australia's "baptism of fire" and "the birth of nationhood".
In the story of the Gallipoli landing Australians saw positive characteristics displayed by their troops that they would continue to identify with in later wars and conflicts, and in other crises and hardships.
This is also the most thoroughly documented day in Australia's history. Charles Bean devoted most of the first volume of his official history of the war, The story of Anzac, to the events of the day: nine chapters and over 90,000 words.
The online exhibition tells the story of the Australians who landed at Gallipoli, and of the creation of the Anzac legend.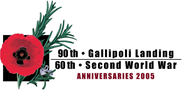 Dawn of the legend: 25 April 1915 was developed by the Australian War Memorial with the generous support of the Minister for Veterans' Affairs Commemorations Program Saluting Their Service.
Dawn of the Legend: 25 April 1915 was on display from 15 April 2005 to 29 May 2005