Pattern 1908 Web Equipment
This is part of a series of blogs by the Military Heraldry & Technology section about First World War webbing and equipment. This blog will look at the British Mills 1908 Pattern web equipment issued to and used by the Australian Naval and Military Expedition Force and the Australian Imperial Force, and some of the items, tools and personal equipment carried by soldiers. This is not meant to be an exhaustive account of the history of 1908 web equipment, its manufacturing variations or modifications, but will provide a general introduction and visual reference.
From 1914 the Australian infantryman was officially supplied with a set of khaki cotton 1908 Pattern webbing; a different type of leather webbing known as bandolier equipment was carried by mounted troops of the Light Horse.
The 1908 webbing allowed a range of equipment, tools and ammunition to be attached and carried by Australian soldiers when marching or fighting. The webbing consisted of a wide belt which supported the following: shoulder straps, two sets of five connected ammunition pouches (configured for the left and right side), a small haversack, a water bottle carrier, frog to hold bayonet scabbard and an entrenching tool carrier. Each strap was finished with a brass tongue to easily engage the brass buckles on the equipment.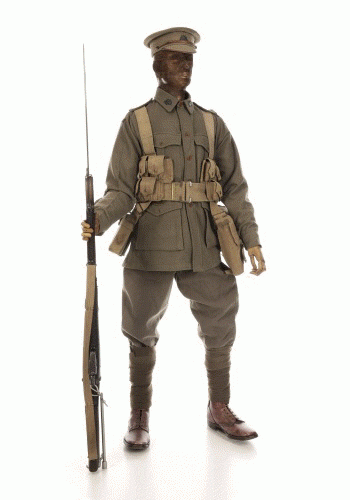 The Pattern 1908 increased the carrying capacity of a soldier and distributed the increased weight evenly across the body from the main waist belt. With all of the components connected to the main waist belt the chest area was left unobstructed. The result, we are told in official orders, is that, 'the whole of it can be taken off in one motion… men can turn out in barracks or camp fully equipped in a few moments, even in the dark'.
Unlike leather equipment which would shrink and slip when wet, the woven cotton was hardwearing and could withstand wet weather conditions. It did not require cleaning or polishing, just an occasional brushing down.
Issued with the Short Magazine Lee-Enfield .303 rifle and bayonet, a soldier was able to carry 150 rounds of ammunition in his ten pouches. The 1908 web equipment could be configured in two main ways, described in official instructions as fighting or marching arrangement.
The fighting arrangement consisted of:
Rifle with web
Bayonet and frog
Ammunition pouches
Entrenching tool and helve carrier
Water [water bottle] carrier in webbing
Emergency rations/ spoon/ fork in haversack
Kindling (an addition that was issued as required)
Small items of spare clothing [socks]
Steel helmet (from 1916)
Gas mask/ respirator (from 1916)
The marching arrangement or battle order, on the other hand consisted of additional clothing and articles surplus to the fighting arrangement. These additional articles comprised some of the following, and were to be carried in a readily removable pack:
Great coat strapped across pack
Additional clothing [cap comforter in pocket of great coat, socks]
Mess tin and cover
Tooth Brush
Shaving Brush
Razor
Comb
Towel
Soap
Housewife
Paybook
In mid-1916, Australian soldiers on the Western Front were further issued with a British steel helmet (Brodie helmet), a gas mask and chest-mounted haversack, and Mills bombs (grenades) as part of the fighting arrangement. In response to gas attacks, gas masks were carried in a haversack around the neck for quick access, and a steel helmet reduced casualties in the trenches. This extra equipment added further weight to the original equipment issue, but was necessary to meet the change in conditions.
Pattern 1915 Australian Leather Equipment
British manufacturers of the pattern 1908 web equipment struggled to keep up with the logistical demands of an expanding army. In late 1915, Australia's answer to a webbing shortage was found in the Commonwealth Government Harness Factory (C.G.H.F) and its contractors, whom began manufacturing its own version of the Pattern 1908 equipment in leather. The Pattern 1915 Leather Equipment replicated the original 1908 design.
Production in Australia began in late 1915 and drew to a close in late 1918. Over the four year period 178,000 complete sets of the 1915 Leather Equipment were made in Australia, in a variety of colours and finishes. The Commonwealth Government Harness Factory manufactured the greatest number of complete sets (118,000) at Clifton Hill, Melbourne.
The Pattern 1915 Leather Equipment was mainly used during the early stages of the war on the Western Front, and for training in Australia. However, it was found to be insufficient in wet conditions, uncomfortable and the leather stretched over time. The leather versions were not as water resistant as Pattern 1908 cotton webbing, and required higher maintenance. In wet weather, the brass buckles slipped, and adjusting the straps while wearing it proved difficult. Due to these design flaws, Pattern 1915 Leather Equipment was replaced with the 1908 web equipment as it became available.
Further reading:
'The Pattern 1908 Web Infantry Equpiment', Published by the War Office and Reprinted, Melbourne, 1911
'Web Infantry Equpiment, Pattern 1908', Kharkee Web, Available online.
Albert Lethern, and William Wise, 'The Development of the Mills Woven Cartridge Belt 1877-1956', The Mills Equipment Company Ltd.
Carl Woods, 'The Pattern 1908 Web Equipment Infantry: Part Two', Arms & Militaria Collector, Vol. 3, No. 4, p13-16
Carl Woods, 'The Pattern 1908 Web Equipment Infantry: Part Two', Arms & Militaria Collector, Vol. 3, No. 4, p31-36
Rick Landers, 'Saddle Up: Australian Load Carrying Equipment of British, American & Local Origin', 1998.