Lieutenant Ross Shackleton
There are many ways in which servicemen and servicewomen stay connected to their families while on deployment. For the Shackleton family, Diana the camel became an important link between Afghanistan and Australia.
Lieutenant Ross Shackleton served as a nurse in the Royal Australian Navy, and in 2013 was deployed to a military hospital in Kandahar, Afghanistan. Ross worked with people from the Australian Army and Royal Australian Air Force in intensive care units and emergency wards, taking care of the sick and wounded. He was deployed for six months, and missed his family during this time. They stayed in contact through Skype, emails, and written letters.
While on deployment, Ross purchased a toy camel in Afghanistan which he named Diana. He sent Diana to John Brotchie Nursery School, where his wife Tiffany taught, and which his son Alexander attended. Ross was well known at the pre-school, and the children were excited to receive this gift, which became the class pet. The children enjoyed playing with Diana, and learnt more about camels and Afghanistan.  Each child had the opportunity to take Diana home for the weekend, and shared their experiences with her in a journal collated by the families. Diana went on many weekend adventures, including attending discos, trips to the playground, and watching movies.
Tiffany reflected on the experience as "a beautiful way to keep myself, our son and all the children connected to Ross while he was away. It also introduced cultural understanding to the pre-school as the children became interested in Afghanistan and researched the country, the [Afghan] children, and what their schools were like".[1]
As the Shackleton children grew older, Tiffany decided to donate Diana and the journal to the Australian War Memorial. She could not bear the thought of Diana being thrown out.  The family were upset to part with Diana, but were excited to see her displayed in her new home. They knew that Diana's new job of educating visitors about the conflict in Afghanistan, and the impact of war on families, was important. The Shackleton family visit Diana at least once a year and receive photos from former pre-school children who also visit Diana at the Australian War Memorial.
Activities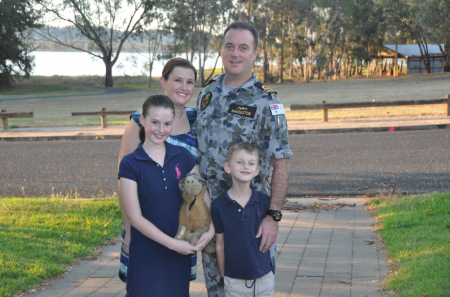 In the photograph above, Ross is wearing a Disruptive Pattern Naval Uniform (DPNU).
 

What colours can you identify?
 
Why do you think these colours were chosen for a naval uniform?

 Diana spent time with each student in Tiffany Shackleton's class.

Can you find the Band-Aid on Diana? Why do you think the children put this on her?

Do you have a class pet? If so, how do you record and share what they do on the weekends?
In the letter above, Lydia has written to an unknown service person.
 

Imagine you are a service person deployed to Afghanistan who received this letter. How does it make you feel?
 
Write or draw a response to Lydia.
 

How has communication between service personnel and family members changed since the First World War? Why do you think people still write letters, when Skype and email provide instant communication?
Ross Shackleton was one of thousands of Australians who served in Afghanistan between 2001 and 2014.
 

Find out more about Afghanistan. You might like to research the following:

Where is Afghanistan?
What is the environment and weather like?
What language/s do people speak?
What do the Afghan people wear; what do they eat?
How are the Afghan people similar and different to Australians?
Related objects
Footnotes
[1] Australian War Memorial, "'Diana' the toy camel: Alexander Shackleton, John Brotchie Nursery School, Botany, NSW",  <Accessed on 11 October 2019>.
Bibliography
Australian War Memorial, "'Diana' the toy camel: Alexander Shackleton, John Brotchie Nursery School, Botany, NSW", <Accessed on 11 October 2019>.