Stella Bowen: Art, Love and War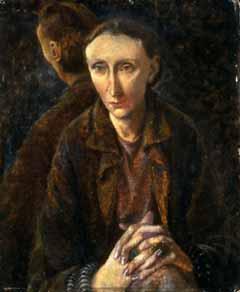 Born into an eccentric English titled family, Edith Sitwell (1887–1964) was a poet who actively encouraged modernist writers and artists. Her reputation as a controversial figure was enhanced in 1923 by the first public performance of a highly original work, Façades, that combined her poetry with music and art. Sitwell also wrote popular historical works and a book on a subject close to her heart, English eccentrics (1933). Her celebrated poetry reading during a flying bomb attack was seen as personifying the spirit of wartime Britain, embattled but irrepressible.

Bowen painted this portrait of her friend shortly after they were introduced by Gertrude Stein. She described Sitwell as having "a rather formidable appearance" that concealed "the kindest, gentlest nature in the world".
Paintings