Stella Bowen: Reclining nude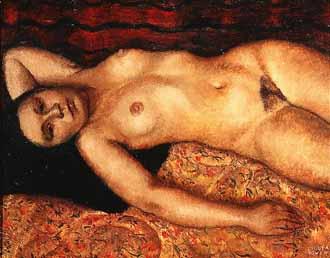 Bowen had begun her training drawing from a nude model with her teacher Rose McPherson, and she wrote of doing "innumerable large and heavily modeled nudes in charcoal" when she first took art classes in London. A later nude study was the first painting she ever sold, to an American publisher in 1924.

During 1927 Bowen painted Reclining nude, experimenting with creating luminosity by layering her paint. It shows the flattening of perspective she had come to prefer, framed by a richly decorative background. She segmented the canvas into four main areas: the decorative red curtain, the reclining nude, black hair framing the head, and the luxurious quilt. Her use of the decorative interplay of sensual, languid and elongated curves is reminiscent of Henri Matisse and Amedeo Modigliani.
Paintings