'I could scarcely put one foot in front of the other'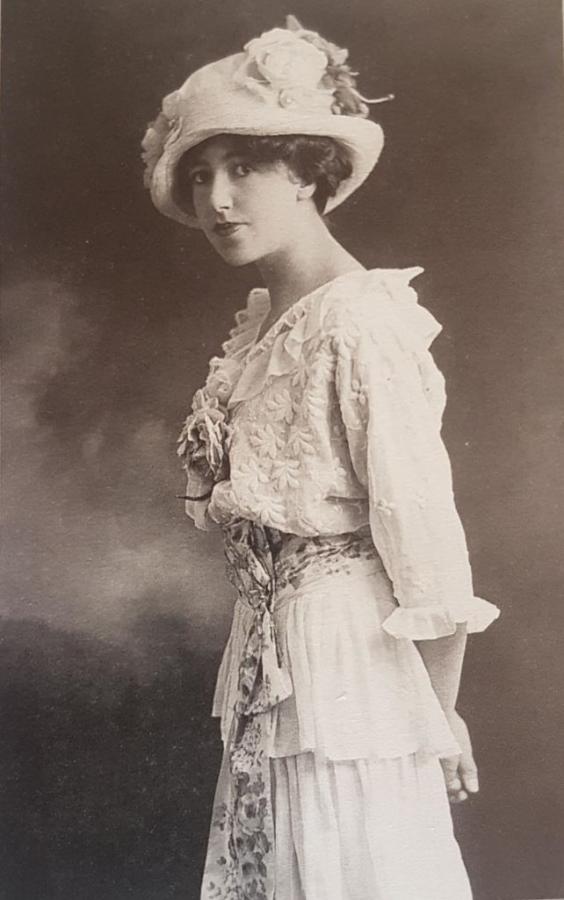 When Hilda Rix Nicholas's husband was killed during the First World War, she was overwhelmed by grief. 
The artist had lost her sister, her mother, and now her husband, Major George Matson Nicholas DSO.
Devastated, she turned to her art, creating some of the most powerful and deeply personal works of her career.
One hundred years later, these works are a poignant reminder of the sacrifice and loss of the First World War.
Born Emily Hilda Rix in Ballarat, Victoria, in 1884, she was the second child of Henry Finch Rix, a prominent teacher and poet, and Elizabeth Sutton, a musician and artist who had attended the National Gallery of Victoria School alongside Arthur Streeton, Fredrick McCubbin, Rupert Bunny and Emmanuel Phillips Fox. Encouraged by her mother, Hilda also attended the school and was taught by McCubbin.
After the death of her father, Hilda left Australia for Europe in 1907 with her mother and older sister Elsie. By the outbreak of the First World War, she was living and working as an artist in France.  She spent the last few days of peace at an artist's colony in Étaples where she had spent many happy summers. The family was evacuated to England after the declaration of war, crammed aboard one of the last ships to leave France. Hilda's mother was unwell, and the journey made her condition worse. Admitted to hospital in England, doctors feared for her life. Hilda's sister also became dangerously ill, and Hilda raced between the two, offering what comfort she could.
When Elsie died from enteric fever on 2 September 1914, Hilda could not bring herself to tell her mother. Fearful for her mother's health, Hilda withheld the news of her sister's death for three months. 
When Hilda's mother died in March 1916, she was grief-stricken. "I could scarcely put one foot in front of the other and walked like an old thing," she later recalled.
In late 1916, she met and married Major George Matson Nicholas DSO, who had been based at an army camp at Étaples. According to family legend, he saw some of the paintings Hilda had left behind in her abandoned studio, and tracked her down before calling to see her at her London studio. The pair fell in love, and they were married on 7 October. 
A school teacher before the war, Matson had been wounded on Gallipoli and was awarded the Distinguished Service Order for his actions during a daring daylight attack on a German machine-gun post at Pozières. He received the award at Buckingham Palace three days before their wedding.
Hilda was 32-years-old at the time and was looking forward to children, family life and a home of her own once the war was over. But her happiness was to be short-lived.
Matson returned to the front three days after they were married. The day before he left, Hilda captured his smile and warmth in a beautiful sketch that she would treasure for the rest of her life.
Only one of her letters to Matson has survived. Dated 15 November 1916, and written on a small blue card, it was sent to the front in a photograph wallet containing a picture of Hilda taken earlier in the year.
"Dear, I love you so. Oh God guard and keep you safe, Matson.  Your letter with news that you have gone back to the Battalion has come and frightens me. Oh dear dear love. It's terrible. You are in danger and I am far away. Oh this ghastly war. Dear husband, be brave and splendid and always your best  but don't be wreckless. I need you and love you utterly. Your wife Hilda."
 Nicholas would never receive the letter. He was killed in action at Flers on 14 November 1916, just five weeks after they were married.
"I would have died," Hilda later recalled. "Had I been allowed – I was so near. I wanted to go."
Hilda took comfort in her friendship with Matson's brothers – Byron, Frank and Athol – but they too were serving and had to return to the front. Byron would be killed in action the following year in Belgium, adding further to her grief.
Inspired by her own grief and her experiences as a war widow, Hilda would go on to create a body of work that was a deeply personal statement about grief and loss. 
Alex Torrens, an art curator at the Australian War Memorial, said her war time work continues to resonate with people today.
"Hilda Rix Nicholas had this amazing creativity and drive to be an artist," Torrens said.
"By the time the war broke out she was well on her way to being a recognised artist: she had studied in London and in France, the French government had bought some of her work and she had set up a studio for herself in Etaples… so the war did completely devastate her life.
"She and Matson had this whirlwind romance, and she was absolutely heartbroken…She had lost her sister, her mother, and then this wonderful man within a period of about two years.
"She's very alone and really turned to her artwork as a way to express her grief and find some kind of solace.
"Several paintings that we know of that she did at this period are very personal expressions of that grief: a widow weeping on the battlefield, sitting among the war-damaged landscape; and a triptych which she called Pro Humanitate, inspired by the poetry of Rupert Brooks …
"The central panel was showing her husband from behind at the moment he was shot on the battlefield, the first panel is them meeting, and the third panel was the life that they would have had together with children and family … She was mourning his death, but also mourning their future together."
One of her more famous works, A Mother in France, is a portrait of a neighbour whose son had been killed in one of the first battles of war. The painting quickly became a symbol of the suffering of all mothers who had lost sons at war.
In late 1917, Hilda started a series of portraits of Australian diggers. She began by portraying her late husband and his brothers, but the series grew into a larger project when she returned to Australia in 1918 and began exhibiting her work in Sydney in Melbourne.
Buoyed by her success, she took a studio in the Sydney suburb of Mossman and began sketching drawings of soldiers who had returned from the war and were yet to find employment.
"It's quite a moving series," Torrens said. "She really wanted to honour the memory of her husband and his brothers, but also of the Australian soldiers more broadly …"
As a war widow, Hilda painted soldiers with what she felt was a sense of quiet dignity: "All the soldiers who have seen [my paintings] say they would have thought only a digger could have painted it, because I have the absolute spirit of the men 'on the field'".
"Hilda's public memorialisation project culminated in 1921 when she entered the Australian war memorial competition at the State Library of Victoria," Torrens said. "It was a big mural competition and although her works were really strong and received favourable comments from the committee and in the press, she didn't end up winning, and instead [the official war artist] Septimus Power won that commission.
"The response [to Hilda's war time] work was lukewarm from the establishment, and even though her work was coming out of a unique and true experience, there was a sense that only people who had first-hand experience of the battlefield, or males, could really portray that …
"She also offered her wartime works to the Memorial in the 1920s, but she was told they were too personal – too intimate – for a national collection. They said they would take the triptych, but they wanted to split the work up and only take the central panel which shows a soldier – who's been shot – in an almost Christ-like pose from behind as he's falling backwards. She refused to break up the triptych, and defended it by saying it was national in spirit."
Returned soldiers, however, appreciated her recognition of their service and sacrifice.
"Her work really appealed to the men who had come back from the war and she received a lot of support from quite high-ranking officers," Torrens said. "She captured the Australian soldiers' experience with a quiet dignity, and it keyed into their memories and their experience … They recognised that she was capturing something in those works that expressed elements of their experiences and their values and it really resonated with them."
Today, her powerful portrait, A Man, is on display at the Memorial, and a number of portraits from the series that began with her sketches of Matson and his brothers are part of the national collection. Tragically, Pro Humanitate was destroyed in a bushfire in 1930.
"They are the only known portraits of identified Australian soldiers by a female artist that exist as far as I know …
"Unlike Britain and Canada, Australia didn't appoint a female official war artist until the Second World War, so they are a counterpoint to the formal military portraits that were produced by the male war artists as part of the official war art scheme … and that's where the significance of this work is.
"She's the only Australian artist to have portrayed these images of war and grief in the same body of work … and ironically it these deeply personal works that resonate with people today. It was a focus of her practise from 1916 … until about 1922, and it was some of the best work that she did."
Hilda returned to France in 1925 and became the first Australian female artist to hold a solo exhibition in Paris.
When she returned to Australia, she married Edgar Wright, a grazier from Delegate, NSW, in 1928. A First World War veteran, his grandfather had been one of the original owners of Lanyon, near Canberra.
Hilda went to live with Edgar at the family property, "Knockalong", and gave birth to a son, Rix Wright, in September 1930, the year in which her new studio was built.
Hilda's granddaughter, Bronwyn Wright, still lives at Knockalong and has kept the studio largely as it was.
"I was only five or six when my grandmother died," she said.
"But I remember her up in her bed and in her garden with all her flowers. My father would go down the hill on the property to milk the cow and drop me off in my grandmother's bedroom…and she'd put out her pencils, which had a beautiful smell. I later discovered that they were juniper pencils, and I still remember that smell of the pencils…
"My grandfather was a wonderful man, and it appears they were very happy together, but she was madly in love with George Matson Nicholas, and she was absolutely devastated when he died.
"She was head over heels in love… and she was very affected [by the war]
"In returning to Australia and settling down at Knockalong … she was on the land, painting the landscapes, and local people, and so on, and that was a huge healing process for her.
"She was still painting young men, but they were often young men on horses who were also returned soldiers from the local area … she had moved to Knockalong and that was her arcadia…
"She was very caught up in the war … and she stuck to her guns, and she didn't pander to what was popular.
"The war was still very much with her … She was still painting and drawing images of soldiers. She was honouring her husband, and she was honouring what they fought for. She was honouring them as individuals and honouring what they had gone through."
Hilda kept the portraits of Matson and his brothers for the rest of her life.
She died in 1961, at the age of 77.
"She really painted from the heart, and she just stuck to own, and did her own thing, and now as a nation we have an amazing collection of drawings and paintings," Wright said.
"It wasn't about war, or glamour; it was about the people …
"It was coming from the heart and her experience."