2020 Napier Waller Art Prize
The annual Napier Waller Art Prize is open to former and current Australian Defence Force personnel. It encourages artistic excellence, promotes the transformative power of creativity, and raises awareness of the experiences and talent of service personnel. There is no required theme, and entrants are invited to use diverse media and original concepts.
This online exhibition presents finalists in the prize and those entries highly commended by the judging panel. The art works reflect the resilience, imagination, skill and humour that members of the Australian Defence Force are well regarded for. They also comment on the challenges and consequences of military service.
An exhibition of the highly commended artworks is on display at the Australian War Memorial from 25 September 2020 to 16 May 2021.
Napier Waller Art Prize Winner 2020
Matt Jones
Yarn
2020
yarn, recycled waste fabric
183 x 183 x 18 cm
Read about Matt Jones' story here.
Winner, People's Choice Award 2020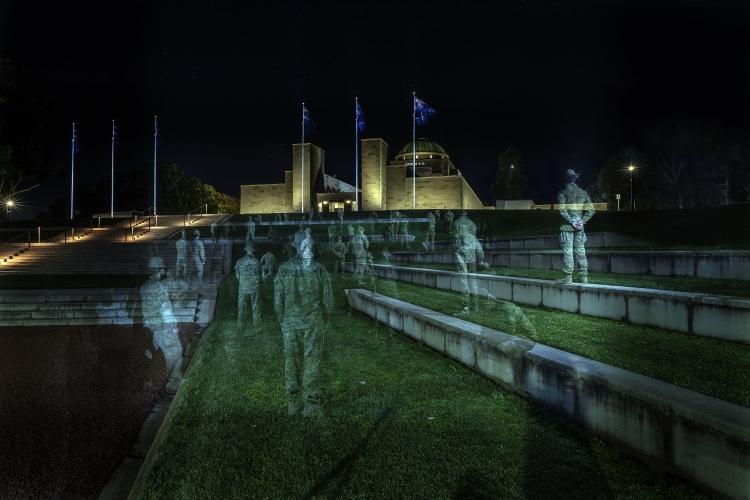 Gary Ramage
Afghan diggers' ghosts at the AWM
2020
photograph
66 cm x 52 cm
Read about the artwork here.
The prize is named in honour of Mervyn Napier Waller, an Australian artist and serviceman who was wounded during the fighting at Bullecourt in the First World War and had his right arm amputated as a result. During his convalescence, Waller learned to write and draw with his left hand, saying, "An artist draws with his head, not his hands." Waller displayed remarkable ingenuity throughout his career and went on to create the mosaics and stained glass windows in the Hall of Memory at the Australian War Memorial.
Judging panel:
Mr Matt Anderson PSM, Director of the Australian War Memorial
General Angus Campbell AO DSC, Chief of the Australian Defence Force
Mr Gary Dawson, Vice President Strategy of Thales Australia
Mr Paul Flynn, Chief Executive Officer of the Hospital Research Foundation
Ms eX de Medici, former official war artist
Mr Nick Mitzevich, Director of the National Gallery of Australia
Professor Paddy Nixon, Vice-Chancellor and President of the University, University of Canberra
Ms Laura Webster, Head of Art, Australian War Memorial
The Napier Waller Art Prize is sponsored by The Road Home, the Department of Veterans' Affairs and Thales Australia, and supported by the University of Canberra.