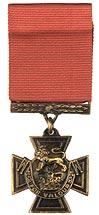 The Victoria Cross is the highest award for acts of bravery in wartime. It was instituted in 1856 by Queen Victoria and made retrospective to 1854 to cover the period of the Crimean War. It is possible for any serving member of the armed forces to obtain this award.
The Victoria Cross was designed, according to the original warrant for the award, to be in the form of the "Maltese Cross". Its shape, however, more closely resembles a cross pattée. In the centre of the medal is a lion guardant standing upon the Royal Crown. The words "For valour" are inscribed below. The Victoria Cross is suspended from a crimson ribbon. On the reverse of the cross the date of the act of bravery is inscribed, along with the name, rank, and unit of the recipient.
The Hall of Valour at the Australian War Memorial honours the one hundred and one Australians who have received the Victoria Cross and the nine Australian Defence personnel who have directly received the George Cross.
A comprehensive list of Victoria Cross Recipients is available on the Anzac Portal of the Department of Veterans' Affairs.
Victoria Crosses held at the Memorial
| Name | Year |
| --- | --- |
| Axford, T.L. | 1918 |
| Anderson, C.G.W. | 1942 |
| Baird, C.S. | 2013 |
| Birks, F. | 1917 |
| Blackburn, A.S. | 1916 |
| Brown, W.E. | 1918 |
| Buckley, A.H. | 1918 |
| Buckley, M.V. | 1918 |
| Burton, A.S. | 1915 |
| Carroll, J. | 1917 |
| Castleton, C.C. | 1916 |
| Cherry, P.H. | 1917 |
| Chowne, A. | 1945 |
| Currey, W.M. | 1918 |
| Cutler, A.R. | 1941 |
| Dalziel, H. | 1918 |
| Dartnell, W.T. | 1915 |
| Davey, P. | 1918 |
| Derrick, T.C. | 1943 |
| Donaldson, M. G. | 2008 |
| Dunstan, W. | 1915 |
| Dwyer, J.J. | 1917 |
| Edmondson, J.H. | 1941 |
| Edwards, H.I. | 1941 |
| Gordon, B.S. | 1918 |
| Grady, T. | 1854 (British) |
| Gurney, A.S. | 1942 |
| Hall, A.C. | 1918 |
| Hamilton, J. | 1915 |
| Holbrook, N.D. | 1914 (British) |
| Howell, G.J. | 1917 |
| Howse, N.R. | 1900 |
| Ingram, G.M. | 1918 |
| Jacka, A. | 1915 |
| Jensen, J.C. | 1917 |
| Keighran, D. A. | 2010 |
| Kenny, T.J.B. | 1917 |
| Kelliher, R. | 1943 |
| Keysor, L.M. | 1915 |
| Kibby, W.H. | 1942 |
| Kingsbury, B.S. | 1942 |
| Lowerson, A.D. | 1918 |
| Mackey, J.B. | 1945 |
| Mactier, R. | 1918 |
| Maxwell, J. | 1918 |
| Maygar, L.C. | 1901 |
| McCarthy, L.D. | 1918 |
| McDougall, S.R. | 1918 |
| Middleton, R.H. | 1942 |
| Moon, R.V. | 1917 |
| Newland, J.E. | 1917 |
| Newton, W.E. | 1943 |
| Pearse, S.G. | 1919 |
| Peeler, W. | 1917 |
| Pope, C. | 1917 |
| Roberts-Smith, B. | 2010 |
| Rogers, J. | 1901 |
| Ruthven, W. | 1918 |
| Ryan, J. | 1918 |
| Shout, A.J. | 1915 |
| Simpson, R.S. | 1969 |
| Statton, P.C. | 1918 |
| Sullivan, A.P. | 1919 |
| Symons, W.J. | 1915 |
| Throssell, H.V.H. | 1915 |
| Tubb, F.H. | 1915 |
| Weather, L.C. | 1918 |
| Wheatley, K.A. | 1965 |
| Whirlpool, F. | 1858 (British) |
| Whittle, J. W. | 1917 |
| Woods, J.P. | 1918 |